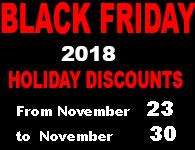 The 23rd of November is Black Friday.
Black Friday takes place within some years. Huge discounts on cloths, equipment, electronics are suggested retail networks and internet-shops at different cities of country.
Since 23d till 30th of November starts New year selling.

Dear men if you add funds to your balance in a period since 23d till 30th of November on website www.atlantidaagency.com on any amount your bonus balance will be added on same amount.
Buy 100 and you will 200 in total.
All adding will be increased in double.