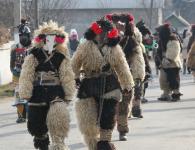 The 14th of January is Old New Year.
If for the Christmas Eve (on January the 6th)we prepared Rich boozing
(rice with grapes), on Melanki day(On January the 13th) which precedes to
Basil the Great, or New year on to old style — people cooked food with
fats (pig lard). That it is why this evening is called as Generous
evening. Like in the Christmas eve all family gathers around the table. Cloths must be cleaned 
and attractive at this day, it was very important. After dinner it was very  important to 
visit neighbours and to ask for forgiveness for possible fault and to meet Old New Year in 
peace and concordance. Evening on the eve of Old New year gave a chance to those guys, who
 failed during matchmaking. Namely at this evening guys can makeanother attempt. However, 
for this purpose it was necessary to find the girl at home, but it was very hard because girls 
were going around  the village with songs. Girls did it at night closer to midnight near houses
 of their neighbours.
                    
The special attention was laid to girl's fortune-telling. Girls tried to do their
 best to foresee what prepares for them future and their whimsical destiny!
For example try this: before going to bed put under a pillow comb, saying:
"My dear one come to me, comb my hair!" The one who will comb girl's hair
in her dream will become her destiny. If to come to the yard at midnight, it is 
possible to feel, as New year banishes Old one. In the first day of New year 
the most widespread  was, and  remains till now, a "posevaniye ceremony"
(scattering of grains on the floor). It is considered that this ceremony came
 to us from pre-Christian times. As a matter of fact, our ancestors celebrated
 New Year not during winter time but in spring time and this ceremony was
 connected with hopes on good and rich harvest.
Children were involved in this ceremony and children went to the houses of
neighbours with grains for scattering. The one who came the first got more
generous gifts.



 Sometimes adult people organized big performances where the main characters
 were Vasily, Melanka, Gipsy and other characters.







 



The 14th of January is Old New Year.
Dear Gentlemen, greet your beautiful ladies with this bright holiday,
write them greeting letter or order them present. Nothing can be better
than gift from all your heart. The best present is basket with food for
holiday table, also good cake and sparkling wine. You can enter on page
with gifts and to choose nice present for your lady. Also good variant is
to come personally and to greet your beloved woman face to face. Our
international marriage agency "Atlantida" will help you to arrange you
romantic tour and romantic meeting with your lady. 
Contact manager of Atlantida agency by email 

info@atlantidaagency.com

 
or by phone  +3 80509989187 and order calculation of romantic tour.