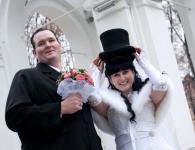 ASTIN(USA, Wayoming) & VIKTORIA (UKRAINE, Kharkov)



Austin and Viktoria dear couple. They met each other 
in Ukraine in Kharkov duty efforts of International 
marriage agency Atlantida. Austin had serious intentions
 about marriage, family and future. Viktoria stood the 
same points. When they acquainted with each other they both understood
that they were donated to each other by destiny. Austin made long way to
his happiness and now he got love, harmony and understanding. 26 of
November 2011 Austin and Viktoria had official registration in the Central
Wedding Palace of Kharkov city. They took our sincere greetings. All staff
of Marriage agency Atlantida wishes them long and happy years together,
raise future kids and get pleasure of every moment of this beautiful life.
BE HAPPY AND BELIEVE IN MIRACLES!