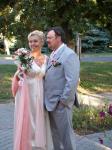 Dave(USA, Minesotta)& Ludmila(Ukraine,Kharkov)
Meeting of Dave and Ludmila was like a miracle. It was spontaneous meeting, spontaneous
feelings and spontaneous love. Miracles sometimes happen in our reality and David and Ludmila
is alive confirmation of it.David came in Ukraine in Kharkov and he decided to use service of
International Marriage agency Atlantida. Ludmila and Dave met each other and it was love from
the first sight.Chemistry, feelings and attraction appeared between them in no time.
They arranged wedding in Kharkov within 1 month after their first acquaintance. Now they
aremarried couple and both are very happy. They were created for each other and every matter
happens for reason. Team of International marriage agency Atlantida in Kharkov Ukraine
wishes them long years together, happiness, love, understanding, harmony and deep mutual
feelings. Be Happy Dear Ludmila and Dave!!!!