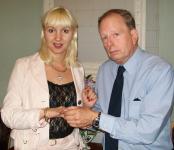 Donald (USA, New York) & Yana (Ukraine, Kharkov)
Yana and Donald met each other in Kharkov in July 2012. Donald visited Ukraine several times but was not
so lucky in finding his soul mate. Then he decided to apply to International Marriage agency Atlantida which
is located in big Ukrainian city Kharkov. Atlantida suggested him to view profiles and he paid attention on Yana.
They met and found a lot in common between each other, they started to communicate and spent a lot of time
together.Donald made a suggestion to Yana and she gladly accepted it.Official marriage between Yana and Donald was registered in Kharkov in the Wedding Palace. This event happened 23 of August 2012. Staff ofInternational marriage agency Atlantida wishes them happiness,love, respect and understanding! Be happy and lucky guy!
International marriage agency Atlantida
Alex&Viktoria