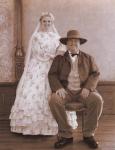 VICTOR BRASSARD FROM CANADA AND JULIA SOSNOVIK FROM UKRAINE (KHARKOV) 
MET EACH OTHER IN NOVEMBER 2014 AND THE 6TH OF APRIL THEY HAD AN OFFICIAL
REGISTRATION OF WEDDING IN CANADA. 
HERW IS SOME WORDS FROM VICTOR BRASSRAD ABOUT STORY OF THEIR
 ACQUAINTANCE.



Hi Viktoria,
Well the truth is, Julia and I would not have met without your agency. You
took the time to interview me and to point me in the right direction. I
think of the 6 other women that I met and how important that was in
helping me on my journey. Julia is truly the love of my life . I am awed
at the outcome of taking that risk and putting myself out there as is
Julia. Thank you to you and your awesome team... Your friend from Canada,
Victor"